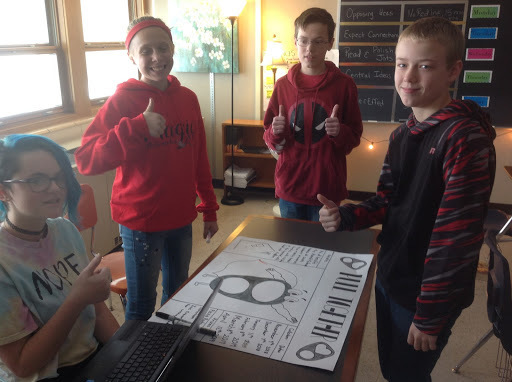 Eighth Grade Service Learning Project
Hailey and Ava
Saturday, December 01, 2018
8th Grade Service Learning Project
By: Hailey and Ava
At the Middle School we have an 8th grade tab collection drive currently in action, which collects tabs for the Ronald McDonald house that provides hotel stays for families with hospitalized children. Fun fact about the Ronald McDonald house is that more than 10,000 dollars is raised every year. We usually receive about .40 to .50 cents per pound of pop tabs, and it takes 1,128 pop tabs to equal one pound. Last year we donated over 13 million pop tabs! To house one family at the Ronald McDonald house it cost between 100-140 dollars per night. That is a total cost of 1,157-1,625 dollars a night when their 13 bedroom house is full. However, no families are turned away!
How can the Middle School help? Well, we separated the 8th grade into six committees. The committees are poster committee, small container committee, large container committee, announcement committee, prize/ awards committee, and collecting committee. For the poster committee their job was to create posters that help spread the word about the tab collection. The small container committee made little houses for the kids in each homeroom to put their tabs in. The large container committee brought milk jugs to places like the Activity Center for the kids to fill them. The announcement committee created fun announcements to also help spread the word about to the tab collection. The prize and awards committee chose the prizes that will be given at the end year and then they will distribute them to the winners. The collecting committee weighs the pop tabs from each homeroom, and updates the progress to keep everyone interested. After they are done weighing the tabs they return the containers to the homeroom.
It is a great fundraiser that is able to help many people in need. Our goal is to raise as many pop tabs as we can. No matter how many we end up raising it will still be able to help families that need a little extra boost during their time of need. If anyone in the community has pop tabs that they would like to donate to the Ronald McDonald house, please bring them into the Middle School office during school hours. Thanks for all your help.