EDIT MAIN
May 24, 2019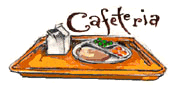 May 24
May 28

Sausage Pizza
Roasted Broccoli
Sweet Potato Fries
Diced Pears
Sliced Apples

Mini Corn Dogs
French Fries
Celery Sticks
Orange
Fruit Mix
HIGH SCHOOL BOYS BASKETBALL
Any 8th grade boys interested in playing high school basketball next fall/winter, please sign up in the office by next Tuesday, May 28th.
HIGH SCHOOL FOOTBALL
Any 8th grade boys interested in playing football at the high school this fall, there will be a meeting on Tuesday, May 28th at 11:15am in Mrs. Athorp's room. Please be sure to attend this important meeting!
CROSS COUNTRY
Attention 5th-7th graders who are interested in cross country but missed the meeting last night, please see Mr. Bartz soon to sign up and get the information.
LAKELAND UNIVERSITY MEN'S BASKETBALL
The Lakeland University men's basketball team is hosting a summer camp for boys who are interested in improving their basketball skills. The camp is open to boys entering grades 4-8 of next school year. Stop by the office for a camp brochure.
FOOD SERVICE ANNOUNCEMENT
Going forward for the remainder of the school year, any students who have a negative balance in their lunch account will not be allowed to purchase ala carte items. Please take care of your negative balance if you wish to be able to continue to purchase these items.
SUMMER OPPORTUNITIES
There are handouts available in the office for a few summer opportunities:
* A basketball camp at UW-Manitowoc July 30-Aug.1
* A nursing camp at UW-Sheboygan Aug. 6-7
* Watershed Ambassador camp at UW-Manitowoc campus Aug. 14-16
If you are interested in any of these camps, stop by the office and pick up an informational handout.
LITTLE LEAGUE BASEBALL PLAYERS/ADULT UMPIRES WANTED
The Cleveland Athletic Club is currently seeking boys and girls ages 5-14 interested in playing girls softball, Instructional, Peanut, Pee Wee or Pony League Baseball in the Manitowoc County Youth Sports League. Practices are held 1 -2 days per week until games begin in late May then one practice and one game is held each week through the month of July. Approximately 8 regular season games are played, with home games played at Veterans Park in Cleveland and away games played within 30 minutes of Cleveland. There is NO Player Fee to play, but players are asked to participate in a little league fundraiser. For additional information, please contact Ron Schisel @ 889-1807.
We are also looking for adult or high school age umpires for little league baseball games (Grade School, age 6 – Middle School, age 14) and girls fast-pitch softball games (Grade School, age 6 – Middle School, age 11). Umpires will be compensated on a per game basis. Please contact Ron above if interested.
LTC TECH CAMP
LTC Cleveland campus is offering a 4 day tech camp for $59 from June 17-20. If robotic welders, fiber lasers and 3D printers interest you, stop by the office and pick up an informational hand out. Space is limited so register now!
TAB COLLECTING
This year the Middle School is collecting tabs for the Ronald McDonald house. Save your soda can and soup can tabs and put them to a good cause!
NEW SECURITY AT MIDDLE SCHOOL
There has been a new security feature installed at the front of the school. We now have a camera and buzzer system. Any student, parent or visitor arriving after the start of the school day will need to get buzzed in and check in through the office. We will do our best to accommodate anyone waiting to get into the building; however, there may be delays at times, depending on what's happening in the office. We appreciate your patience and understanding as we advance our security to make our building a safer place.
REVISED GRADING SCALE
At the end of last school year, a new grading scale was approved for the middle school, matching the high school grading scale. The new grading scale is as follows:
| | |
| --- | --- |
| 93 – 100 | A |
| 90 – 92.99 | A- |
| 87 – 89.99 | B+ |
| 83 – 86.99 | B |
| 80 – 82.99 | B- |
| 77 – 79.99 | C+ |
| 73 – 76.99 | C |
| 70 – 72.99 | C- |
| 67 – 69.99 | D+ |
| 63 – 66.99 | D |
| 60 – 62.99 | D- |
| 0 – 59.99 | F |