High School Athletics
The athletic program is an integral part of our school's curriculum. As such, it provides certain opportunities and emphasizes definite outcomes difficult to duplicate in other school activities. A primary purpose of education is to provide each individual with a good background of health and physical fitness. Interscholastic athletics, as part of the overall education program, assists in the achievement of these goals.
Howards Grove High School recognizes the importance of athletics to our school and community. Competition brings everyone together for a common goal, camaraderie, and a sense of pride. Athletics teaches new skills, encourages leadership and teamwork, and provides for lasting friendships. Student athletes are given opportunities to exhibit good sportsmanship and citizenship, along with the learning of commitment and responsibility to their team, school, and community.
Forms
Athletic Forms must be completed in RSchool. NO paper forms will be accepted.
All Physical Cards/Alternate Year Physical Cards must be uploaded into RSchool under the Physical Forms step of registration.
Athletics Registration (RSchool)
Saturday, August 7, 2021
HGHS Cross Country 1st Annual Donut Run
Do you like donuts?
Can you walk (or run) a mile?
Would you like to support the HGHS CC team?
Then come on out to the HGHS track on Saturday, August 7th to join us for our first annual Donut Run put on by the HGHS CC team to raise funds for new warm ups, travel expenses and team bonding experiences.
Athletic Trainer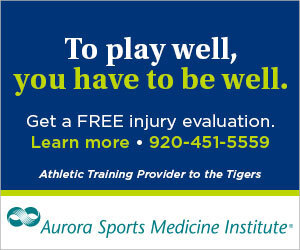 Exclusive Athletic Training Services provided to the Tigers by
Mason Stentz, MS, LAT
Licensed Athletic Trainer
Aurora Health Care Sports Medicine Institute
mason.stentz@aurora.org
920.451.5559